This is the trendiest event that almost everyone has on their bucket lists, with more than 75,000 people gathering in the most extreme conditions at the heart of the Black Rock Desert in Nevada. Burning Man arouses curiosity of all kinds, draws the crowds from across the planet and its magic spreads throughout the world. This is an incredible event and I would like to help it grow further and show that its 'sex, drugs & techno music' reputation is not deserved. Let me tell you my story, how and why Burning Man has changed things in my everyday life.
Thanks to Arnaud Galland for this translation !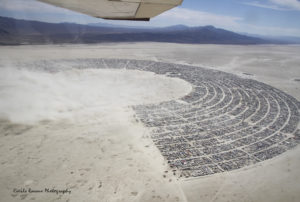 Welcome Home!
This community gathering of multidisciplinary volunteers combines the artistic and logistical skills of everyone. It is a place of unlimited creation inspiring the whole world, driven by the best hedonistic intentions of its participants who are extremely determined to take up a series of challenges to make their dreams come true, albeit for a short-lasting moment. Splendid wooden constructions arising during the festival turn into ashes less than a week later!
Also, no money is exchanged. No water, food or beverages are for sale, so you have to take them with you! Here, everything is shared or given.
The Burners
This active community, comes from the 'default world' to erect a short-lived city based on the efforts and human experiences, as well as love and freedom. Nothing would exist if it weren't for the commitment and dedication of its active explorers. No cellular or Wi-Fi network is available, so leave your phones behind! You'll be living a magical week out of time and out of touch. The 'Playa' (not to be confused with a Californian beach!) is the central location where the artworks are displayed and the camps around it are bustling with activity 24 hours a day. This is all about discovery of art, discovery of others and discovery of one's self.
From technology prototypes to astounding artistic sculptures, people come to Burning Man to share extraordinary energy, a common creative project, and to open themselves to strong sensations and emotions. People naturally interact during the festival through gifting and mutual help and are driven by kindness and respect towards the free expression of others… This is how things truly are and how I would describe this event. To sum up, this is about smiling, loving & having fun!
There is something extraordinary with this event: After my first time there, my only wish was to go back to further create, imagine, experience and let myself go.
How has this experience changed my life?
All this energy concentrated on a limited time made me realize how authentic this experience was. I deeply hope to remember every moment I had lived and every person I had met. It may sound silly from the outside, but when you meet fifty people in a day, live incredible experiences, you want to be sure above all not to forget anything! Like a ride on the back of a dragon towards the center, near the tall wooden Man which burns the last day. Nearby you would also find a market filled with bits and pieces, where nothing can be bought, everything is given! Like the intricate costumes the people of the camp in charge of this wonderful space has taken months to make. But also popcorn, hot dog and even cocktail machines … Nothing is lacking, so that you can quench your thirst or satisfy your hunger. I came across a fake movie shooting, a well-equipped fake film crew stopped me, gave me a wedding dress, asked me to find a husband who would be my Prince Charming in the movie. I found a handsome young man nearby dressed in a very special way, in underpants with big leather straps. According to the scenario, we had to play the wedding scene. For the first time, I lived my own marriage, surrounded by randomly selected strangers. Everyone was moved. There was even a priest and a bouquet. In short, everything was there to resemble the most classic of weddings … Except perhaps for the fancy getup of the guests, with one in pink tutu or another with a head of horse on…
Emotions arose and tears glittered in everyone's eyes. I then chose an old man to play the role of my father who would accompany me to the altar. We all played the game, lived the moment, and our eyes moistened despite heat and dehydration. We lived a unique and magical moment, and I could not believe what was happening, as everything was out of the world, but at the same time there was a feeling of trust between us all which acted as a true catalyst for our emotions. I also rolled in a tub filled with oil and got a four-hand massage, which was a pleasant surprise, as the cardboard sign only mentioned a not-very-exciting bathe in oil. I can remember taking part in an acroyoga workshop too. I was also stopped at the crossing of an avenue by people with a wand who would tell me I had to 'spank' someone with an ink stamp the size of my hand (yes, spank with a stamp) and then taste an unknown beverage, which turned out to be a chilli vodka. And I was offered to have a part of my body molded (I decided it would be my breast).
There was also a camp with the exact replica of the Star Wars Cantina. I also had a truly beautiful haircut at the 'Barbies Death Camp', a large 'concentration camp' filled with barbie dolls planted in the ground at the entrance. You had the option of taking a picture of the completely crazy camp or paint a barbie, cut her hair, snatch a limb … Freaky but true.
https://www.instagram.com/p/BaluTplD1pc/?taken-by=cecileravaux
In short, with so much wonder, discovery and magic, and with so many encounters and exchanges touching you deep inside, laughter, tears and emotions arise before you even have time to notice. The beauty of this extraordinary universe makes you vibrate and gives you goosebumps of happiness. You would like this moment to last and never stop so that you can make the most of it. You keep on meeting new people, living new experiences, and there is no time to pause and ponder over what you had just lived. Time passes, activities are jostling, experiments are done, you're loosening your grip on reality, then you realize what's happening and you are overwhelmed with emotions. You're shedding tears for happiness as you understand. Then you go a step further, you play the game better when dealing with a new activity, as you are no longer afraid of looking ridiculous. You live and discover yourself as you are, you find out your own limits outside the social framework and the norms you have learned.
Having lived through a week of a thousand and one experiences, I felt transformed, full of energy, and as I got back to real life I truly felt nostalgic for these moments. And then how difficult it was to describe everything I have lived to the others: The dragon, the octopus spitting fire … I felt disconnected, but all these special moments remain in my memory and make me smile or shed a tear, and deep inside me these experiences have made me stronger, more fulfilled, more attentive to the others and more tolerant. I see things differently. I realize that in Burning Man or in Paris each person has a rich experience and I want to invest much more time in my everyday projects, because I was given so much during this week that I wish to give this energy back around me. Performing small gestures of optimism and vitality makes me grow every day and a bit more satisfied with my daily actions and gives me confidence as I bring small moments of happiness to people. Happiness is mutual and I reap positive energy. And then I go to sleep with a smile on my face. A new day dawns, I feel happy. I want to share this emotion and feel that you my friends and you who sits in front of me in the subway and all the people I meet during the day feel the same.
My tip and trick:
The not-to-be-missed event if you're a 'virgin' to Burning Man: Every year, Daft Punk gives a concert to those who have the courage to go to 'Deep Playa', the boundary between Burning Man and the Black Rock Desert, opposite the camp area.
My little secrets on how to live the Burning Man experience all year long:
My music favorites:
Alex Cruz / Jan Blomqvist  / Atish
My favorite photos:
The Frenchies Photografs:
Hervé Photograff / Ludovic Ismael / Gilles bonugli kali
My favorite videos:
Philippe Meicler / Laurent Le Gall
And many more!
Welcome to the reality of the wildest dreams!
All my pictures can be found here.
That article was published in Huffpost.fr 🙂
Love,